Stenciled on the back wall of the erasure assistance office run by the neighborhood Christian legal clinic is a reminder that many who seek to move forward in their lives often photograph and post to their Facebook pages.
The message reads: "Don't look back, you're not going that way."
As it embarks on a new search for a new chief executive nearly two years after hiring its former executive, Amy Horton, the clinic may need to keep that assertion in mind.
The faith-based legal aid provider, like Indiana's nonprofit Legal Services, has had to figure out how to meet the overwhelming need created by the COVID-19 pandemic while unable to meet with clients face-to-face. But the clinic had the added challenges of recruiting and hiring remotely due to high employee turnover, making internal structural changes and bolstering its fundraising efforts.
Now the association is preparing to reopen. He has set April 18 as the date when employees will start working in person and is evaluating how to meet again with people seeking help at reception sites around Indianapolis.
Interim CEO Elizabeth Fiscus, who joined the clinic in April 2021, is focused on the future.
Fiscus meets with the clinic's long-time community partners and has conversations. The goal is to meet clients where they are by learning how neighborhoods are doing and how legal services can help them.
"At this point we are investigating rebuilding, as the world has changed since it closed," Fiscus said. "So we want to build things right and we want to build them as needed. So we're going to start reaching out, investigating the needs, retrieving that information and analyzing it and seeing how we can make those connections and what we can do to best meet their needs in a way qualitative.
Additionally, the clinic's board formed a search committee and hired charity advisors to find the organization's next leader. Employees and former employees interviewed for this story praised Horton and the leadership she provided during a particularly difficult time.
Horton arrived at the clinic in April 2020 and left in February. She said she loved the clinic and its mission, but had to step away to take care of her health and her family.
Board Vice-Chair Jacqueline Pimentel-Gannon noted that the position does not require the CEO to have a law degree, but the clinic wants someone with leadership skills, management experience and " a real heart" for legal aid work.
"The key we were looking for (is) someone interested in supporting and leading and participating in the clinic's mission," Pimentel-Gannon said. The next leader having "this passion for the law and the people we serve, I think, is something really important to us."
Rooted in Faith
The clinic was founded in 1994 as a faith-based legal aid provider, which, according to its first executive director Abby Kuzma, makes the organization unique among other legal aid providers.
Those who work for the organization, Kuzma said, tend to have a strong commitment and see work as a way to live out their faith. Additionally, the clinic has integrated drop-in sites in different neighborhoods so people do not have to travel to the main office, and it offered services to meet changing needs.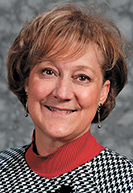 "Our goal has always been to identify populations that are underserved and go there," Kuzma said. The clinic wants to be "responsive to the needs felt by our clients and the low-income communities around us," she said.
The connection to faith is what drew Fiscus to the clinic. As a 'very strong Christian' and survivor of domestic violence, she said she had a passion to help disenfranchised people through 'the loving grace of Christ'.
Even for those who are not accepted as clients, the clinic still offers whatever help it can. Fiscus explained that the organization's mission includes providing preventative legal education by teaching individuals their basic rights and how they can help themselves. In addition, at the host sites, everyone who came before was able to talk to a lawyer and at least get some information to better understand their own situation.
Fiscus said she believes the two areas the clinic will need to focus on are housing and immigration. Landlords and tenants will continue to seek help with their housing issues, and immigrants will need help with a myriad of issues. Also, she stressed, the clinic will have to listen.
"We have to reach out and see what our neighbors say we need," Fiscus said. "…We have a lot of ideas that we want to bring to them and see if it's good for them. And we want to hear their ideas.
Horton said the clinic's faith-based mission helped recruit attorneys and staff to fill vacancies created by turnover. The clinic now has directors for its housing, immigration, survivor justice, tax and reintegration programs.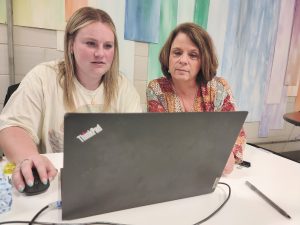 Alongside the employees is the clinic's first director of human resources. Job descriptions have been rewritten to reflect what people actually do, salaries have been adjusted to stay competitive, and health insurance is now offered. In addition, managers participate in training and professional development.
According to its financial report filed in June 2021, the clinic has net assets of $2.72 million, up from $1.60 million in 2020. Horton has brought in staff to build relationships in the community and increase donations. Additionally, a new Young Professionals Advisory Board has been established to help promote the clinic and raise funds.
Horton said she sees the clinic as being in a strong position and continuing to benefit from her church's foundation.
"I think many in the faith community are passionate about biblical justice," Horton said. "…I don't see the faith community moving away from supporting the clinic."
Show kindness
The Radiation Help Desk is an example of the clinic's faith in action.
Located in the basement of the City-County Building in downtown Indianapolis, people wishing to overcome their past mistakes must do a bit of hunting to find the help desk. But once they arrive in the brightly lit room, they are greeted by a team of paralegals who explain the expungement process, search the court docket for criminal convictions, and draft the petitions.
With the help of a five-year, $1 million grant from the Lilly Endowment — the largest in the clinic's history, according to Horton — the office is expanding to offer follow-up services. Staff will check to make sure individuals have filed their motions and help answer any questions the attorney may have.
In 2021, the helpdesk worked with 1,675 people and wrote 2,044 petitions. Julie Mennel, lead paralegal at the help desk, said that in her eight years of radiation work, her perception had changed. Before, she acknowledged, she would be wary of someone with a criminal record, but learned that poverty and a lack of positive role models can put people on a downward trajectory.
Helping people look to the future allows Mennel to practice his religious beliefs.
"I see the important opportunity," she said, "to show kindness to people who have never been kind before."•